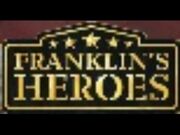 Franklin's Heroes is a weapon pack. Like all weapon packs, it only becomes available for a short amount of time. The pack contains three weapons:
The pack also comes with an Essentials bundle available for $8.99 USD which includes all weapons in the pack.
Notes
Once anything in the pack had been purchased, the Essentials bundle will no longer be available.